Dressing up is a brilliant way to encourage empathy. Here, Maudie Smith – author of The Dressing-Up Dad – gives us some fun ideas and easy ways to dress up with our kids.
When I visit primary schools I tell children that books are magic. They're not just books – paper, board and ink – they're other things too. To prove my point I produce my Magic Book Bag.
Out come the passport belonging to Mr A Reader, the time machine and the magic carpet. Books are modes of transport, sweeping us away to other countries, other times, other worlds. Books are mirrors that can reflect your own feelings. Books are teddy bears – a cuddle, a chance to snuggle up with Mum or Dad and share a story.
Next comes a key. I ask the youngest child in the school to use it to unlock the brain of the oldest, and vice versa. We imagine all their innermost thoughts and wishes floating out of their ears and across the school hall, suddenly clear for all to see.
Finally, there's a pair of shoes, far too small to belong to anyone I'm talking to. They are Somebody Else's Shoes. Reading about other people is an opportunity to try on their shoes and walk around in them, to find out how they think and feel. Developing children's capacity for empathy is one of the most important things a book can do.
There are other ways we can encourage empathy, too. Dressing up is one of them. Children have a natural inclination to dress up and very often the first thing they'll want to do, quite literally, is try on your shoes. Because they want to know what it's like to be you.
Part of the inspiration for my new book with Paul Howard, The Dressing-Up Dad, was a photograph I came across of a man and a boy striding through a DIY store in superhero capes. What, I wondered, would it be like to have a dad who loved dressing up as much as you?
In my story, Danny's dad has taken to dressing up in a big way. He and Danny have the best fun together, being wizards, robots, sea creatures and super heroes. It's only when other people are involved that Danny has a wobble. Other people's dads don't dress up all the time. Should his own dad be dressing up quite so much? He soon realises that although Dad is different from other dads, for Danny he's just perfect the way he is, and the two resume their happy dressing-up ways.
Have you ever thought of dressing up along with your child? I bet you'll delight them if you do. Also, by joining in with them you'll be showing that you recognise the value of their chosen activity. And it really does carry value. Dress up as a character and you can quickly imagine what it feels like to be them. If you play at being a fox family, let your child lead the game, let them cast you as the baby fox if they want to, and let them have a go at being the mum or dad fox. Swap round too. It's sure to throw up all sorts of interesting talking points and chances to practise negotiating, cooperation, and give and take.
Dressing up and role play can also be a good way of discussing issues that might be seriously bothering your child. If your daughter has a problem with a friendship or is scared at bedtime, it might be easier to act out and examine when she is, say, Little Miss Spider, than when she is completely herself. She might find it easier broaching the subject in the lighter context of a game.
On a practical level, a fun dressing up session can help provide a child with the skill set they need to get themselves dressed. You can fit in a sneaky bit of training with those tricky zips, armholes and buttons – all the things which can seem such a chore when it comes to getting dressed to order in everyday clothes or school uniform.
And if, as I did, you have a spirited child in the house, dressing up can be an ideal way of moving them from one activity to another. If they're deep in a game, the words 'bath time!' may not be ones they want to hear and you could have a fight on your hands. But if you come in with the swimming goggles on and invite them to join you in a spot of deep sea diving you may have more success!
And it's easy to organise. You don't need to buy a special outfit – no need for an off the peg Ana or Superman suit. Children don't need much more than an accessory to get their imaginations firing. A scarf for each of you, tucked in the back of your waistbands and you will be a pair of cats. A home-made mask and a pillowcase cape and you'll be the greatest of superheroes. And if you're feeling very brave you could go to the supermarket dressed like that – just like Danny and his Dressing-up Dad. Go on, I dare you!
---
By Maudie Smith
Please note: all book links lead to more information on Amazon.co.uk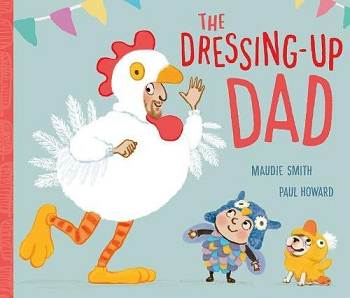 Danny LOVES dressing up. So does Danny's DAD! Whether it is pirates at a party or superheroes in the supermarket, they'll dress up anywhere, at any time, whatever the occasion. A brilliantly funny and uplifting celebration of dads and the importance of being yourself! Perfect for kids aged 2+
.