Our wonderful Oxford Dictionaries for Children editorial team have provided the levelled words and content for the The Big Spell show on Sky 1, including over 3000 words, definitions and example sentences from our corpus database. Each week, while The Big Spell is broadcast, we'll be posting a new spelling tip.
Spelling tip for week ending 26 February 2017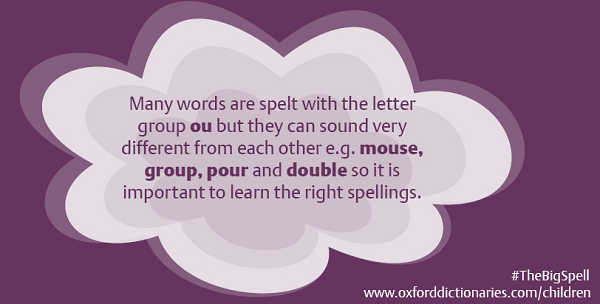 Tip: Many words are spelt with the letter group ou but they can sound very different from each other e.g. mouse, group, pour and double so it is important to learn the right spellings.
More help with spelling from Oxford Owl
Help with spelling, including information on how spelling is taught at school and free activities
Spelling quiz: Could you survive The Big Spell?
Earlier spelling tips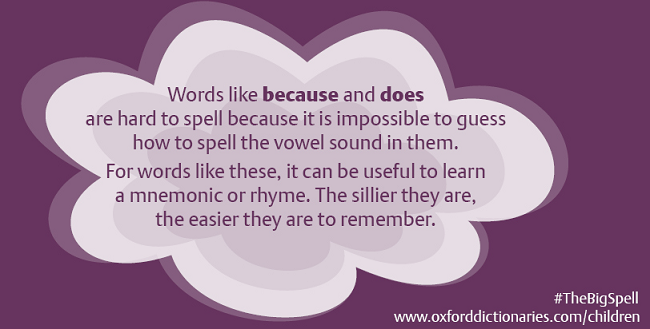 8th January 2017
Tip: Words like 'because' and 'does' are hard to spell because it is impossible to guess how to spell the vowel sound in them.
For words like these, it can be useful to learn a mnemonic or rhyme. The sillier they are, the easier they are to remember.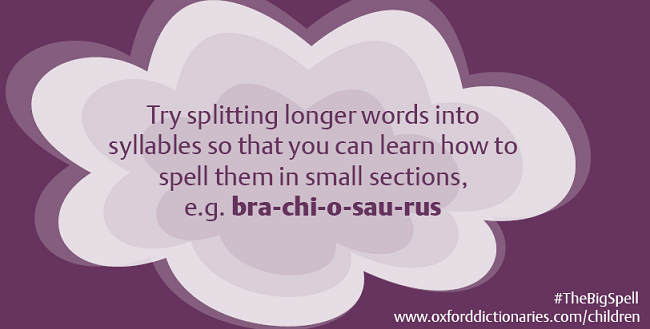 15th January 2017
Tip: Try splitting longer words into syllables so that you can learn how to spell them in small section, e.g. bra-chi-o-sau-rus.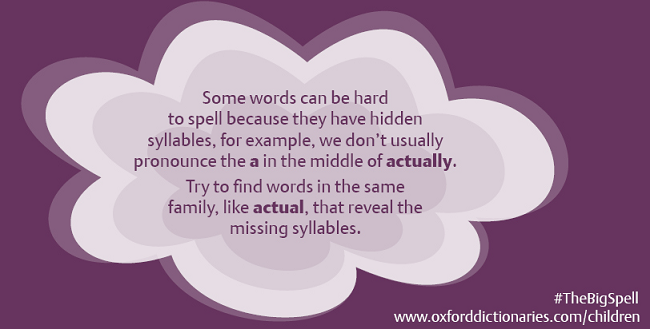 22nd January 2017
Tip: Some words can be hard to spell because they have hidden syllables, for example, we don't usually pronounce the 'a' in the middle of actually.
Try to find words in the same family, like 'actual', that reveal the missing syllables.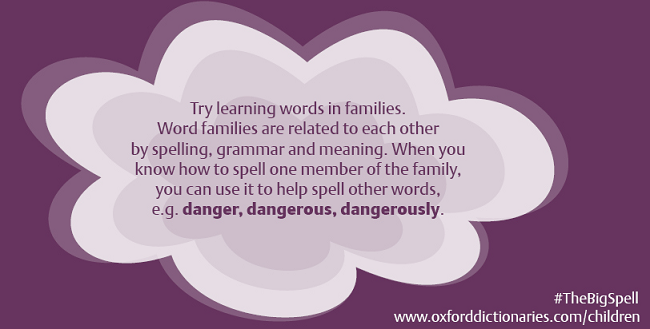 29th January 2017
Tip: Try learning words in families. Word families are related to each other by spelling, grammar and meaning. When you know how to spell one member of the family, you can use it to help spell other words, e.g. danger, dangerous, dangerously.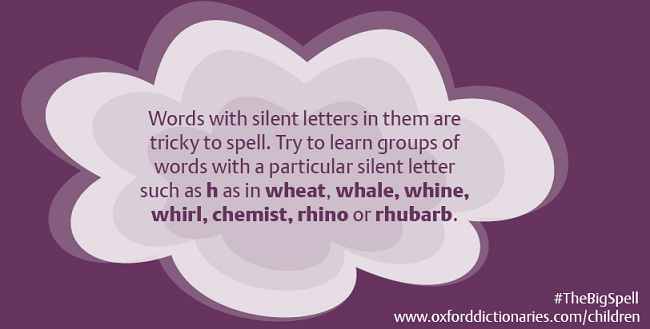 5th February 2017
Tip: Words with silent letters in them are tricky to spell. Try to learn groups of words with a particular silent letter such as 'h' as in wheat, whale, whine, whirl, chemist, rhino or rhubarb.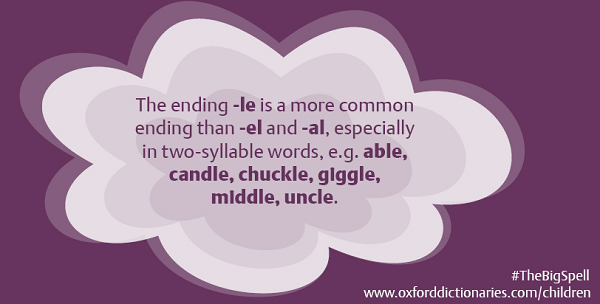 12th February 2017
Tip: The ending '-le' is a more common ending the '-el' and '-al', especially in two-syllable words, e.g. 'able', 'candle', 'chuckle', 'giggle', 'middle', 'uncle'.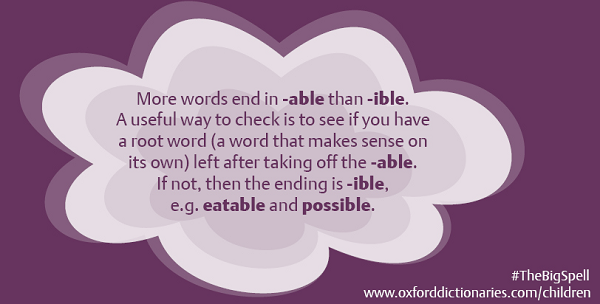 19th February 2017
Tip: More words end in –able than –ible. A useful way to check is to see if you have a root word (a word that makes sense on its own) left after taking off the –able. If not, then the ending is –ible, e.g. eatable and possible.
All spelling tips are taken from Oxford Better Spelling books