Looking up an unfamiliar word in the dictionary can be a daunting task for many children. Without specially written definitions suited to their reading level, using a dictionary will be frustrating and discouraging, with each new definition containing more confusing words than the last! Encouraging children to use an appropriate dictionary on their own terms can really help your child become an enthusiastic, independent reader.
Here are four things to consider when choosing a dictionary for your child.
Is it pitched at the right age for your child? Is it age-appropriate?
At best, a good dictionary can stimulate children to widen their vocabulary proactively, by researching the new words they encounter day to day. At worst, an inappropriate dictionary will bore or alienate your child with wordy definitions or overly childish pictures.
Children's dictionaries generally have a clearly defined age guide, which is a good place to start. It's also worth bearing in mind that some children acquire reading and writing skills more readily than others, which is completely normal! Buying a dictionary together can be a good way to make the experience fun for your child, while ensuring that they find the definitions engaging. A good child's dictionary will contain example sentences which children will relate to: they 'walk' to the park, they don't 'walk' to work.
Dimensions
Is your child willing to lug a hardback dictionary, thesaurus, and the full works of Shakespeare to school every day? A wide variety of formats are available to suit your particular needs, from large, brightly coloured picture dictionaries for young children to our all-in-one Mini Dictionary and Thesaurus which easily fits into a school bag.
Extra features
Many dictionaries come with special appendices, pictures, grammatical rules and more. Some children's dictionaries come with jokes, anagrams, and rhyming words, while others contain creative writing tips from beloved children's authors. It's always worth doing a little research to find a dictionary with extra features which are useful and interesting to your child.
Oxford dictionaries often come with supplemental guides, worksheets and games that you can download online. You'll find some free word games further down this page.
Design & themes
Choosing a design or theme which resonates which your child is important at any age. A young Roald Dahl fanatic will of course be drawn to our Roald Dahl Dictionary, full of Quentin Blake's iconic illustrations and Dahl's inimitable vocabulary. The Oxford First Illustrated Dictionary contains lovely hand-drawn illustrations by Emma Chichester Clark, and is full of popular characters from children's stories and fairy tales. The Oxford First Dictionary, on the other hand, features computer-generated images which may appeal to children who prefer computer games to bedtime stories!
You'll find some of our best-selling children's dictionaries further down this page.
Video: Why do we need dictionaries for children?
As the Publisher for Oxford Children's Dictionaries, Sam talks about why we need dictionaries for children, what goes into creating them, and why she loves her job!
Video: How to use a dictionary
An introduction to first dictionary skills for young children, to help them understand how to use dictionaries to find the words they need.
Our favourite dictionaries
Please note: all book links lead to more information on Amazon.co.uk
Also available
More from Oxford Owl
Word games
Age 5+
Activity: Putting things in order (.pdf)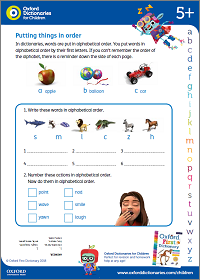 Activity: Spotting synonyms (.pdf)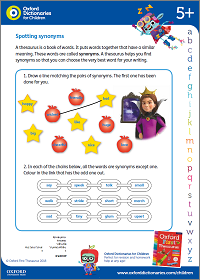 Activity: Shapes word search (.pdf)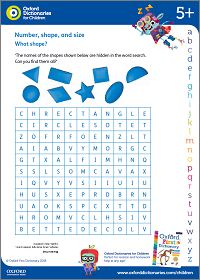 Age 7+
Activity: Putting words in alphabetical order (.pdf)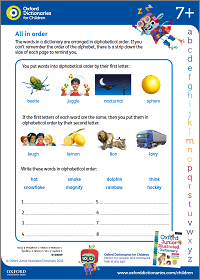 Activity: How do you spell that – c or s? (.pdf)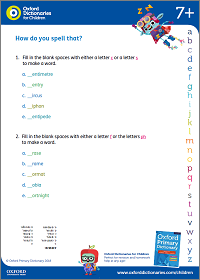 Activity: Know your ABC! (.pdf)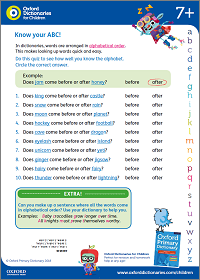 Activity: Matching words (.pdf)

Activity: Spotting synonyms (.pdf)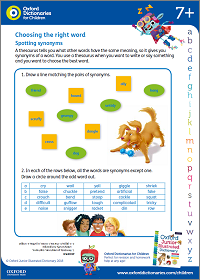 Video: Why use Oxford Children's Dictionaries?
Find out what makes an Oxford Children's Dictionary different!