Roald Dahl's Rotsome & Repulsant Words
Illustrated by the razztwizzler Quentin Blake, this is the perfect introduction to the naughtiest words and phrases invented by the World's No. 1 Storyteller, from the creators of the bestselling Oxford Roald Dahl Dictionary.
This gleeful guide will help children develop their language and literacy skills, as well as their understanding of how language works, by igniting their creativity as readers and writers as they make up their own words – with a gigantuous helping of naughtiness!
Win a fantabulous Roald Dahl prize bundle!
To celebrate the release of this whizbanger of a book, you could win a copy of Roald Dahl's Rotsome & Repulsant Words AND the Oxford Roald Dahl Dictionary! Four runners-up will win a copy of Roald Dahl's Rotsome & Repulsant Words.
For their chance to win, we want your child to make up their very own definition of GROBSQUIFFLER. Simply head over to our Facebook page and complete the competition entry form to tell us what they think this biffsquiggling word means.
We'll reveal Roald Dahl's own definition, as featured in Roald Dahl's Rotsome & Repulsant Words, on our Facebook page once the competition closes!
UK residents only. Entry closes at 11.59pm on Sunday 24th March 2019. Terms and Conditions apply.
About the book
Please note: all book links lead to more information on Amazon.co.uk
Cheeky chiddlers can get creative using Roald Dahl's mischievous language. Plus get ready to be goose-gruggled and fluckgungled by the raft of snippets of serious language facts they will learn too. This little book is full of vermicious tips, definitions and examples from the World's No.1 storyteller, and it is a wondercrump way to get children making up their own words and learning how language works. Having fun and being bold with words starts here!
About the editor
This phizz-whizzing book has been compiled by writer, researcher and lexicographer Dr Susan Rennie, who was also the chief editor of the Oxford Roald Dahl Dictionary. She has worked on many dictionaries for both children and adults, including the Oxford Primary Dictionary, the Oxford Primary Thesaurus, and the Oxford English Thesaurus for Schools. She also writes books in Scots for children, and has translated the first Scots edition of Tintin.
Susan is currently a Lecturer in English Language at the University of Glasgow where she teaches lexicography and the history of English and Scots.
Read Susan's interview with the Guardian to find out more about how she helped to compile Roald Dahl's Rotsome and Repulsant Words:
Squinky pigsquiffle! How Roald Dahl teaches children creative swearing
Book Extras
You may also be interested in: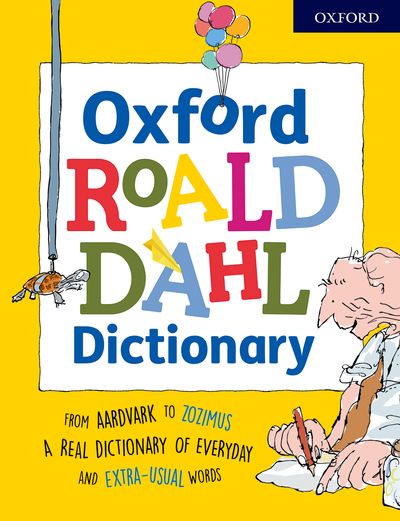 This is not an ordinary dictionary. After all, you wouldn't expect an Oxford Roald Dahl Dictionary to be ordinary, would you? Lots of dictionaries tell you what an 'alligator' is, or how to spell 'balloon', but they won't explain the difference between a 'ringbeller' and a 'trogglehumper', or say why witches need 'gruntles' eggs', or suggest a word for the shape of a 'Knid'. This dictionary does all those things. All the words that Roald Dahl invented are here, with real citations from Roald Dahl's children's books and illustrations by Quentin Blake, to inspire and encourage young writers and readers.