Coming up with a great story idea can be tricky, which is why we've gathered together four fun activities to spark your child's imagination and help them overcome writer's block. Why not use these activities to inspire your child to create an exciting adventure for the BBC 500 Words short story competition?
Please note: The closing day for BBC 500 Words 2019 is Friday 8th March. Find out more on our BBC 500 Words page.
1. Find inspirational objects at home
Unusual objects can be a great source of story inspiration. Raid your kitchen cupboards or hunt through the attic to find lost treasures. Anything from an old hat to a telescope will do the trick. Ask your child questions about the object to inspire different story ideas. What could it be used for? Who might be looking for it? What secrets could it hold? Suggest different genres or types of story such as mystery or science fiction and discuss how the item might be used in this kind of story.
2. Turn facts into fiction
Fun facts from encyclopedias, museums, zoos, the internet and beyond can inspire astounding stories. Did you know a jumping flea can accelerate faster than a space rocket taking off into orbit? You could use this science fact to spark a story about an astronaut flea saving Tim Peake from bug-eyed alien invaders. What is the craziest story idea your child can think of inspired by the facts they find?
Author Top Tip:
Don't worry about what anyone else thinks: just write the story you would love to read.
3. Scour the headlines
Real-life events can often spark great story ideas. Have a look through a newspaper or find some news articles online. There are all sorts of interesting details in news stories that could inspire wild and wacky stories. Why not combine details from different reports to create a fresh and original story?
4. Have fun with our idea generator
Sometimes it's the mix of ingredients that can give you a story idea that stands out from the crowd. Get your budding writer to choose different characters, settings and genres from the table below and mix them together. What kind of mystery would Sherlock Holmes solve on his visit to Hogwarts?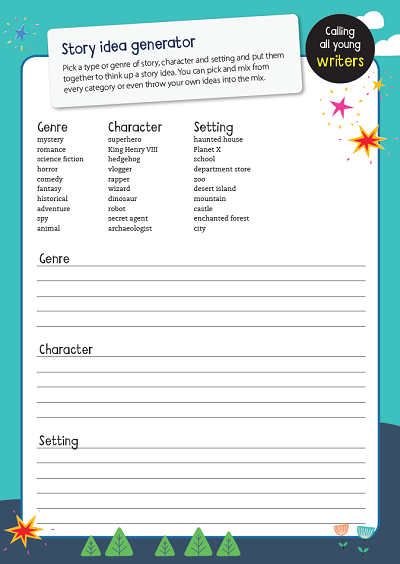 Download the BBC 500 Words activity sheet and have your child pick a type or genre of story, character and setting and put them together to make a story idea. They can pick and mix from every category or even throw their own ideas into the mix!
Author Top Tip:
Don't just go with your first idea for a story. a) it might not be your best idea and b) the chances are, a lot of other people will think up that idea as their first idea too. So come up with at least three different ideas – and then choose the one you think is the best.
These activities should help your child get off to a flying start in writing an amazing tale. The only limit is their imagination!
More from Oxford Owl
Books to support creative writing
Please note: all book links lead to more information on Amazon.co.uk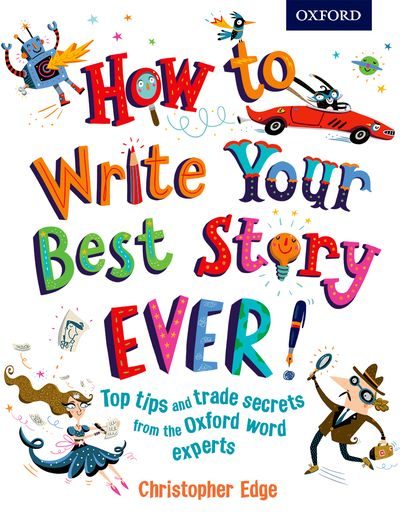 From how to overcome writer's block to what words to use to best effect, How to Write your Best Story Ever! is designed to help all children unlock their story ideas and write their own best ever stories.
Packed with entertaining illustrations that will inspire your child, this book is filled with tips on how to write in particular genres, create exciting characters, and write powerful sentences using metaphors, similes, and idioms.